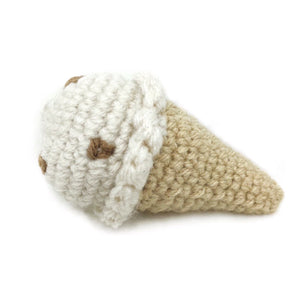 An everlasting vanilla ice cream cone?! Yep, this tantalizing treat is made especially for your cat, and while they might not be willing to share, you'll get lots of entertainment from their silly catnip-fueled antics!
Each one is lovingly crocheted by hand and filled with soft stuffing and high quality organic catnip and silver vine that your cat will be obsessed with. Unique texture and shape is fun to bat around, bite, and kick!
Brighter Sides toys are handmade in Seattle, WA by a certifiable cat lover like you! A portion of each sale is donated to an animal welfare organization.