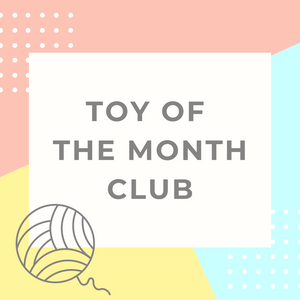 Cats crave variety - make sure your fluffball never gets bored with their selection by having a new, handcrafted catnip and silver vine filled toy delivered to your doorstep every month! 
Each month will bring a different surprise toy - some of which are exclusive to the Toy of the Month Club. You can also opt to receive a toy once every other month instead. 
Choose to have a delivery every month and you may also receive extra bonus goodies, samples, discount codes, and more just for monthly Club members!
----------
Please note that when you select a quantity of 1, you will receive one of that month's special toy. If you select a quantity of 2 or higher, you will receive multiples of that *same toy*, arriving in the same package together.
This can be a good option if you have more than one cat and don't mind having multiples of the same toy, or if you want to give toys to a friend, neighbor, relative, etc.
Subscriptions renew automatically but can be paused or canceled any time. If you have any questions, please reach out to me before purchase.
Customer Reviews
09/10/2023
Jill S.

United States
Best quality cat toy
We have every single toy still that we bought and my 3 cats still play with them stay still have the catnip smell they still look new so well made we are also part of the toy of the month highly recommend joining and I love she supports the kitties
01/10/2023
Kathy C.

United States
Perfect for all types of cats!
I first came across this vendor in seattle farmer's market for my first cat - who immediately fell in love with it!! She never gets bored of it and sometimes would even lose it from playing too much. I've also gifted a few to my friends' cats (who don't have much interest in catnip) and they absolutely loved it! I am always excited to recieve the monthly cat toys, my cat looks forward to it too!
12/07/2022
Jill S.

United States
Best ever
The best one ever my 3 cats love the turkey leg we do to lol the catnip last forever we have just about all of them still they still play with them we are part of the toy of the month I highly recommend you won't regret joining
06/04/2022
Svetlana P.

United States
The best catnip toys in the world
My kitties always know then their monthly toys are delivered and cannot wait for me to unpack. They just love them!
05/04/2022
Jill S.

United States
Best lasting cat toy ever
My 3 cats love there toys they get from you they get so excited when you they see the package they know it's for them. The catnip last so long to this day they still play with the first one I got long long time ago If you have cats you need their toys