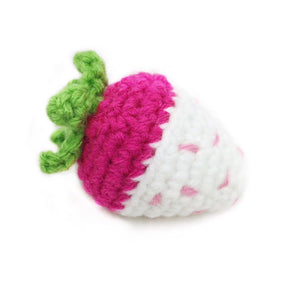 Nothing says decadence like chocolate dipped strawberries. Show your cat who your *real* true love is with this white chocolate strawberry cat toy, and be prepared for the purring and drooling to begin! Measures approximately 3" x 2" each.
Each toy is lovingly crocheted by hand, and filled with soft stuffing and high quality organic catnip and silver vine that your cat will be obsessed with. Unique texture and shape is fun to bat around, bite, and kick! Measures approximately
Brighter Sides toys are handmade in Seattle, WA by a certifiable cat lover like you! A portion of each sale is donated to an animal welfare organization.