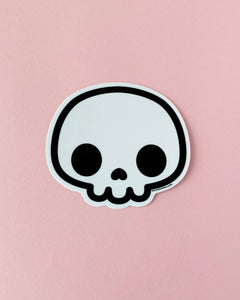 This skull sticker will give you spooky vibes all year long! These vinyl stickers are weather proof, water proof and dishwasher safe. They're perfect stickers for your car, phone cases, water bottles, tumblers, journals and so much more!
*NOTE* The skull stickers are larger than they appear!  4 inches doesn't sound huge, but please don't be surprised when you get them and they're ginormous, haha! Get the full set of four Halloween Stickers here!
♡ DETAILS ♡ * Quantity: 1 * Size: 4 inches on their widest or tallest sides * Finish: Glossy, weatherproof, durable and dishwasher safe.  Get the enamel pin version of this design here! • Colors might vary just a bit from your screen. 
Illustrations and original designs © Becky Helms/